Last weekend was my son's first birthday! I cannot believe how quickly time goes by... how fast they grow! We had his party on a perfect weather weekend, at our favorite park in Salt Lake. I made chocholate and vanilla cupcakes from VCTOTW, and we just had finger foods to go with them. I made 3 dozen cupcakes, because that is how much my new cupcake carrier holds, and that was barely enough! See the pics below :)
Instead of taking the cupcake out of my hands, he decided to just dive right in!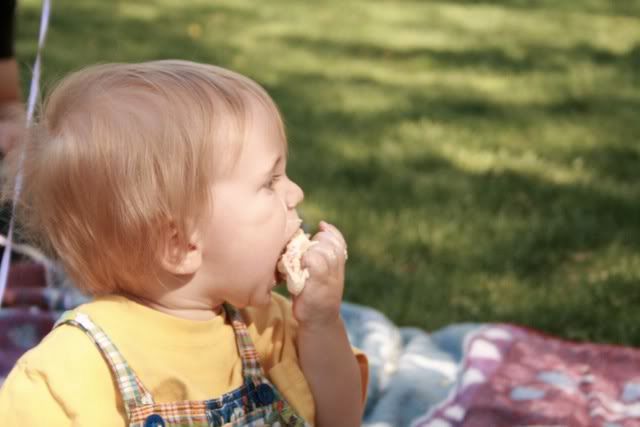 Enjoying his very own cupcake
He got a little messy, and it was so much fun watching him eat that thing. I'm not the kind of mom that doesn't let my child eat sweets. I love sweets, why shouldn't he? He is, afterall, a child. And nothing is sweeter than his mama's milk! So it was not his first time eating a cupcake, but it is the first time I've let him feed himself a cupcake out of the sheer messiness of it!

I also love that new cupcake carrier. I saw it on HSN online, but bought it on Amazon for the free shipping. I will be using it for many, many birthdays, holidays, and every other occasion I can make an excuse to bake yummy treats!